Dear Friends, Neighbors and Supporters,
The Beverly Holiday Parade Committee is DELIGHTED to announce that the 2021 Parade is ON!
This year's parade is going to be EPIC as we finally come together as a community to salute our Front Line & Essential Workers. We have all appreciated everything that they have done, and continue to do, to keep us all safe and healthy.
The 2021 Parade is going to be a treat for us all.  Please visit this site and our facebook page for updates.  We can't wait to FINALLY see you again!
Happy Holidays,
The Beverly Holiday Parade Committee
The 2021 Beverly Holiday Parade
is proud to honor….
The Front Line and Essential Workers of Beverly
"It is possible for ordinary people to choose to be extraordinary"
-Elon Musk
After all we have been through, The Beverly Holiday Parade is delighted to honor ALL of Beverly's front line and essential workers who have nursed us back to health, cared for our loved ones, kept us fed, and kept us safe during this crazy time.
The 2021 Parade is still slated for Sunday November 28, 2021 at 1:00 and will follow whatever safety guidelines established at that time by Governor Baker and Mayor Cahill.
Follow us on Facebook for updates and in the meanwhile, please stay safe everyone!  We're all in this together!
The Beverly Holiday Parade Committee invites our friends and businesses in the community to be a part of the 2021 Parade!  Sponsor a band, or a float, and make a huge difference in Beverly this holiday season!
To learn how the Parade will feature your business with your corporate donation by CLICK HERE  for our Sponsorship Opportunities.
Of course, no donation is too small.  We are grateful for your continued support to this amazing event!
You can pay online or pop a check in the mail!  Click on Santa here to learn more!
Mail Checks
The Beverly Holiday Parade, Inc.
c/o Al Temkin
Temkin Financial Group LLC
301 Edgewater Place
Suite 200
Wakefield, MA 01880
The Parade kicks off at 1:00 Beverly High School, covering 1.7 miles, making its way down Cabot Street.  Performers stop at the Viewing Stand at City Hall to strut their stuff before continuing on to the parade's end at the Beverly Depot.
Transportation back to the high school at the conclusion of the parade will be provided to children participating.  Participants, please fill in all fields on the sign-up form.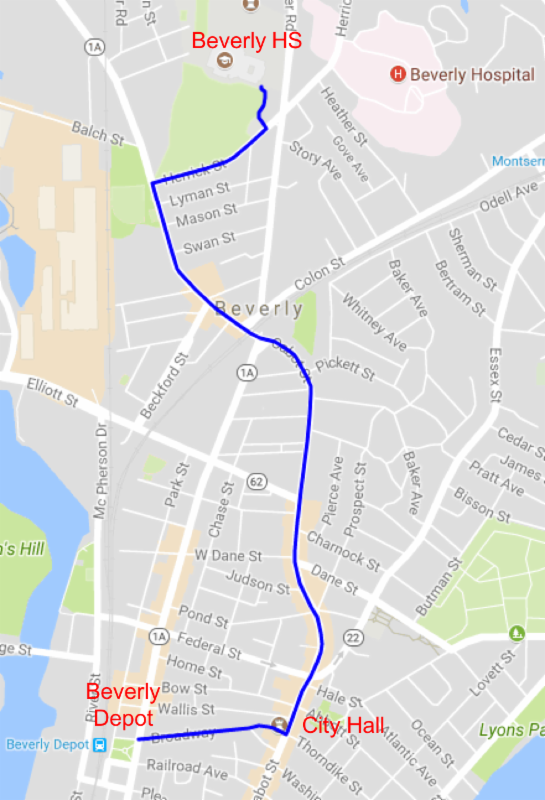 1
NEW START AT BEVERLY HIGH SCHOOL!
3
NEW PARADE END AT BEVERLY DEPOT!