The 2023 Parade Theme is:
Holiday Traditions From Around The World
Congratulations to our 2023 Grand Marshall's,
Mark & Robin Foster
Mark Foster is a Beverly native and a graduate of Northeastern University in Boston. He has dedicated his career to public service, serving the City of Beverly for over 40 years. Currently he holds the position of Director of Emergency Services for the City, and is also the Founder and Director of a FEMA Search & Rescue team based in Beverly. His team, consisting of over 250 members, has responded to many disasters and emergencies, including the September 11th attacks and Hurricane Katrina.
In recognition of their efforts at Ground Zero in New York City from September 11th to September 18th, 2001, Mark's entire Search & Rescue Team was honored as the Grand Marshalls of the 2001 Beverly Holiday Parade.
Robin McGarvey Foster, originally from Philadelphia and New Jersey, has been a resident of Beverly for over 40 years. She graduated from Salem State University and recently retired after serving as the Assistant Director of the Greater Beverly Chamber of Commerce for 14 years. Prior to her work at the Chamber of Commerce, Robin held positions at two well-known Beverly institutions, the North Shore Music Theatre and TDBank.
Post retirement, Robin remains involved in community service. She is a member of the Board of Directors of Grateful Friends, a non-profit organization that provides both emotional and financial support to adults undergoing cancer treatment. (gratefulfriends.org).
She also serves on the Board of Directors of Beverly Homecoming (beverlyhomecoming.org), an organization dedicated to fostering community spirit and organizing events for Beverly residents.
Mark and Robin are proud parents to two daughters, Kate Foster of Pittsburgh, PA, and Sarah Hartline of Marblehead, MA. Together, they have four grandchildren, Emma, Ben, Allie and James.
The Beverly Holiday Parade Committee invites our friends and businesses in the community to be a part of the 2023 Parade!  Sponsor a band, or a float, and make a huge difference in Beverly this holiday season!
To learn how the Parade will feature your business with your corporate donation by CLICK HERE  for our Sponsorship Opportunities.
Of course, no donation is too small.  We are grateful for your continued support to this amazing event!
You can pay online or pop a check in the mail!  Click on Santa here to learn more!
Mail Checks
The Beverly Holiday Parade, Inc.
c/o Al Temkin
Temkin Financial Group LLC
301 Edgewater Place
Suite 200
Wakefield, MA 01880
Watch the Parade Live on BevCam and YouTube
11:00 Participants assemble at Beverly High School.
1:00 Parade Stepoff!
Rain Date: December 10th, 1pm.
THE PARADE GOES ON, SNOW OR SHINE.
In case of extreme weather, watch this site and our Facebook page for cancellation notice.
The Parade kicks off at 1:00 Beverly High School, covering 1.7 miles, making its way down Cabot Street.  Performers stop at the Viewing Stand at City Hall to strut their stuff before continuing on to the parade's end at the Beverly Depot.
Transportation back to the high school at the conclusion of the parade will be provided to children participating.  Participants, please fill in all fields on the sign-up form.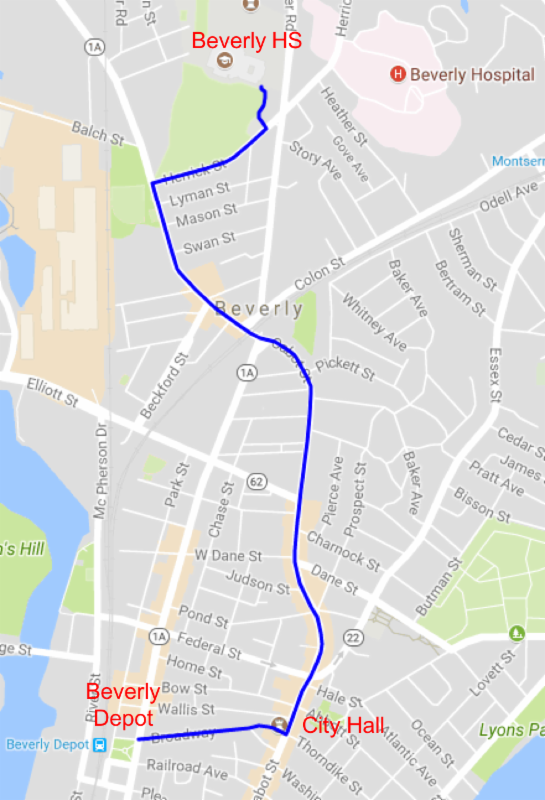 1
START AT BEVERLY HIGH SCHOOL!
100 Sohier Rd, Beverly, MA 01915
3
PARADE END AT BEVERLY DEPOT!
10 Park St, Beverly, MA 01915