Thank You!
Our parade for 2022 is now "in the books" and I would like to take this opportunity to thank all who contributed to what was the biggest and the best parade we have ever had. Our parade committee; Al Temkin, Phil Broderick, Ray Novack, John Kenney, Linda Turcotte, Medley Long, Steve Crowley, Chris Mooney and Jerry Guilbee planned, coordinated and ran an amazing parade in so many ways. Also want to thank Paul and Kristen Guanci for serving as our Grand Marshalls this year, a very well deserved and well earned way for Beverly to say thank you for their service to the betterment of our City. Thank you to our partners the
Beverly Police Department
and the
Beverly Fire Department
for their support and participation. We always appreciate the support of
Mayor Mike Cahill
, City Council President Julie Flowers and the entire Council and our School Committee for their support and participation. It is always a pleasure to have the opportunity to thank our State Representative Jerry Parisella and
Senator Joan B. Lovely
for their work on our behalf.
We especially thank all the children in our City who participate in youth sports, the group we recognized and honored. It is important to thank all of the volunteer coaches for their work with our kids.
Our sponsors are listed on our website. We very much appreciate their support of this event each year.
We always appreciate feedback and input from the community so we can continue to get better with each year. Our website provides an opportunity to share thoughts and ideas. There is also a place for those interested to work with our committee to help plan and manage future parades.
It's now on to planning our 2023 parade, all thoughts and ideas are very much appreciated.
Dear Friends, Neighbors and Supporters,
The Beverly Holiday Parade Committee is delighted to announce that the 2023 parade will be held on Sunday, November 26 at 1pm.
Please visit this site and our facebook page for updates.  We can't wait to see you again!
Happy Holidays,
Beverly Holiday Parade Committee
Congratulations to our 2022 Grand Marshall's,
Paul and Kristin Guanci
Kristin Pieroni Guanci is a Beverly native whose Grandpa Mario was one of the founding members of the ICC.  Kristin's Dad Robert served as a member of the Board of Directors and past president of the ICC.  Kristin has also served as, Friends of Cove Park.  Kristin and her Co President Roberta Chirco raised over $120,000 in private donations to turn Kimball Haskell Park into a play ground for children.
Kristin has been very active and  involved with PTO's in several Beverly schools as their kids, Anna, Noah and Julia have worked their way through the Beverly school system.  During the pandemic Kristin arranged for David Coffey (scrooge) to appear before students via zoom.  Kristin now serves on the Hospitality Committee at BHS.
Paul also grew up in Beverly and began working at Super Sub with his Dad in 1986 for the summer and just never left. Elected to The Beverly City Council in 1999 and continued to serve for 20 years including 16 of those years as our City Council President. 
Paul was an original board member of Beverly Main Streets, served as Chair of Beverly's Economic and Community Development Council, is an active member with the Greater Beverly Chamber of Commerce and a member of the Beverly Rotary  Club.  Paul is also active at St. Mary's Parish and is Trustee of the Fischer Fuel Society.
Paul was recognized with the Leslie S Ray Award from the Greater Beverly Chamber of Commerce in 2021.  He was also recognized by The Beverly Rotary Club as Citizen of the Year.
The Beverly Holiday Parade Committee invites our friends and businesses in the community to be a part of the 2022 Parade!  Sponsor a band, or a float, and make a huge difference in Beverly this holiday season!
To learn how the Parade will feature your business with your corporate donation by CLICK HERE  for our Sponsorship Opportunities.
Of course, no donation is too small.  We are grateful for your continued support to this amazing event!
You can pay online or pop a check in the mail!  Click on Santa here to learn more!
Mail Checks
The Beverly Holiday Parade, Inc.
c/o Al Temkin
Temkin Financial Group LLC
301 Edgewater Place
Suite 200
Wakefield, MA 01880
Watch the Parade Live on BevCam Channel 8
11:00 Participants assemble at Beverly High School.
1:00 Parade Stepoff!
NO RAIN DATE.
THE PARADE GOES ON, SNOW OR SHINE.
In case of extreme weather, watch this site and our Facebook page for cancellation notice.
The Parade kicks off at 1:00 Beverly High School, covering 1.7 miles, making its way down Cabot Street.  Performers stop at the Viewing Stand at City Hall to strut their stuff before continuing on to the parade's end at the Beverly Depot.
Transportation back to the high school at the conclusion of the parade will be provided to children participating.  Participants, please fill in all fields on the sign-up form.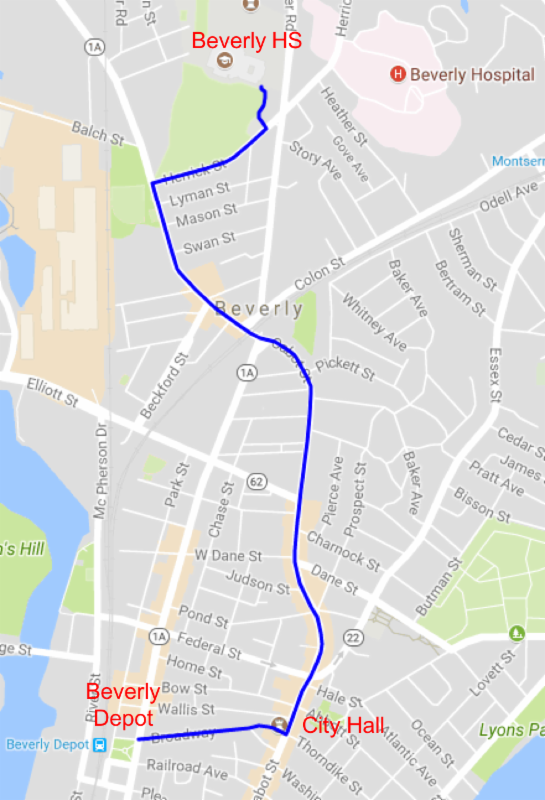 1
NEW START AT BEVERLY HIGH SCHOOL!
3
NEW PARADE END AT BEVERLY DEPOT!